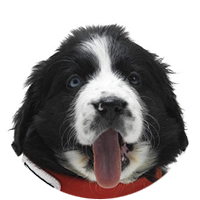 Volunteering at Mira: getting involved in the community
Each year, Mira teams seek the help of more than 2,000 volunteers to help them perform various tasks.
Learn how you could help too.
In what ways can you get involved with Mira?
Mira volunteers can perform various types of tasks according to their interests and abilities. Here is a partial list of tasks that are possible to perform as a volunteer:
Organize or sponsor a fundraising event;
Participate in an event organized by the Mira team;
Perform various administrative tasks (mailings, word processing, data entry, etc.);
Foster a Mira puppy for one year;
Perform maintenance tasks (mowing the lawn,trimming shrubs, cleaning, etc.).
There is no minimum time commitment to become a Mira volunteer. Only your actual availability is taken into consideration.
Please note that there is no volunteering to do directly with the dogs, except by parcitipating in the foster family program. Working with dogs is left in the hands of qualified staff to ensure safety and proper training.
Eligibility criteria
You must meet certain criteria to become a volunteer at Mira:
You must be aged 18 and over.
Certain tasks require good physical condition (e.g. maintenance).
Regarding events, some of them occur during periods of both good weather and bad weather. You must be ready to work regardless of the weather condition.

Introduce your employees to volunteering
Mira also allows companies to volunteer directly at their headquarters.
Once a month between May and October, a group of ten employees is invited to carry out various administrative and maintenance tasks. To learn about availabilities, we invite you to communicate with our team in charge of this matter by telephone or email.

Contact us
Get involved
Want to help Mira by becoming a volunteer? Complete our registration form and provide your availability as accurately as possible
Apply now