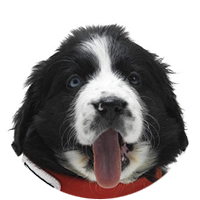 Service Dogs for People with Reduced Mobility
Since 1993, Mira has been offering service dogs to help adults and children with physical disabilities in their daily lives.
Discover the benefits of these dogs and learn more about the program's eligibility requirements.
What is the service dog program for people with reduced mobility?
The service dog program is designed to assist any person with a mobility impairment, an organic impairment or a neuromuscular disease. The majority of beneficiaries registered in this program use wheelchairs (manual or motorized).
Service dogs help people with disabilities become autonomous because they are trained to:
Pick up objects on the ground
Serve as a support or rest
Pull a wheelchair
A learning period is required to have a service dog in your daily life. Communication between a dog and student is not established as quickly as it would be between two people.
Our program enables people who live with a physical disability to master the use of a service dog in their daily lives, in their home as well as outside.
Discover our facilities
Eligibility Criteria for the Service Dog Program
To participate in the service dog program, you must:
Have permanent impaired mobility
Have a significant and persistent movement impairment
Have an up-to-date medical record (Please download the medical report and have it filled out by your doctor before proceeding with your request)
Be able to care for your dog
Program Sequence
Evaluation
A first meeting will be held with a physiotherapist and one of our coaches to determine the beneficiary's capabilities and needs. This assessment lasts approximately half a day.
Training
Subsequently, the admitted person will be housed in our facilities for 3 weeks. During this period, he or she will take part in a course with at most 8 students, to learn how to use the dog's skills in daily life.
Mira provides for all students' housing. During his or her stay, each recipient has a private room and is offered 3 free meals a day in the residence's dining room. For the children's program, parents are also housed in our residence.
Follow-Up
After this training, a Mira employee will proceed to a personalized follow-up at home, to ensure that the service dog is properly integrating all instructions and that it is adapting to the beneficiary.
Application Request
Due to the high volume of requests, for ethical concern to serve the people waiting in a reasonable time and to ensure optimal service to active beneficiaries (including renewals), the service dog program no longer accepts new applications for the moment. Any changes regarding the reopening of the program will be indicated on this page.