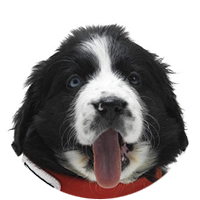 Help Mira by Becoming a Puppy's Foster Family.
At Mira, we offer the possibility of becoming a foster family for one of our puppies for a period of up to 18 months, in order to help the puppies become socialized.
This step is necessary and essential because it prepares a Mira dog to undergo guide-dog or service dog training. These dogs will give beneficiaries greater autonomy.
What is the Role of a Mira Puppy's Foster Family?
The principal role of a foster family is to teach a Mira puppy the basics of daily life. Maintaining good health, developing basic good behaviour and socialisation are the key elements required for puppies chosen for the guide-dog program for people with reduced mobility as well as for the service dog program for the families of children living with autism spectrum disorder.
Discover Our Programs
Program Eligibility Criteria
In order to become a Mira puppy's foster family, the following criteria must be respected:
Devote time and have patience.
Be at least 18 years of age.
Attend all 7 obligatory meetings (behavioural sessions and veterinary exams).
Do not leave the dog alone for more than 4 hours per day.
It is important to remember that Mira remains the owner of the dog and reserves the right to take it back at any time if it judges the dog's safety or development to be compromised.

What skills will the puppy need to develop during its stay?
Here are the basics the puppy will have to master while with its foster family:
Become house trained
Lie only in appropriate places (not on beds or sofas)
Eat only dog food
Become familiar with different types of environments (public places, urban centres, public transit)
Steps of the Program
Preliminary Meeting
Firstly, we ask people who are interested in looking after one of our puppies temporarily to fill out a detailed form. This will allow us to better understand their motivations and previous experience in dog education.
Subsequently, a meeting with a Mira employee will be planned at one of our locations in order to better prepare the future foster family for the socialisation process.
Temporarily Looking After a Puppy
After approval is given, 9-week-old puppies will be given to foster families for a duration of up to 18 months.
During the period where the dog is between 4 and 10 months, training sessions will be offered by Mira trainers at our facilities to complement the foster family's volunteer work. Throughout the puppy's stay with a foster family, Mira commits to paying for the following expenses:
dog food
veterinary bills
Accessories such as a collar, a scarf and a leash (or several!)
A letter of identification allowing access to public spaces.