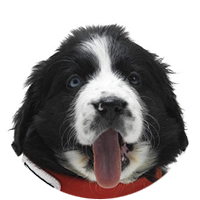 A footpath that grows with public donations
The flagstones that make up Mira Way pay tribute to the people who have made a significant donation to Mira or that have been greatly involved. For each financial contribution upwards of $500, an engraved flagstone in the donor's name is added to the first portion of the footpath. It is also possible to make a donation of $250 in memory of a family pet. A flagstone in the second portion of the footpath will then be engraved in its name. A tax receipt will be issued in both cases.

Simon Beauregard: an outstanding Mira employee
The footpath was named in honour of Simon Beauregard, a former Mira benefactor and employee who passed away in the winter of 2017. Blind since the age of eight, he had a passion for dogs that quickly led him to take on the job of service dog trainer for the program for youth with ASD. His commitment and dedication to Mira for close to 15 years made it possible to significantly improve the quality of life of many families.
Contribute to building Mira Way
Immortalize your support to Mira by participating in the development of the stone footpath. To contribute, contact info@mira.ca directly. A member of our team will be pleased to help guide you through the steps.