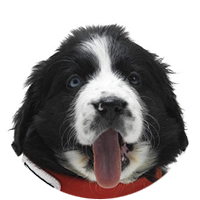 Guide dog for the blind and visually impaired
The guide dog program for visual impairment was the first service offered by Mira. It makes the daily lives of people with a visual impairment easier through the use of a guide dog.
Discover the animal's benefits, the program's benefits and the admission requirements.
What is the guide dog program for visual impairment?
The guide dog program is offered to help any blind or visually impaired person to interact, be mobile, and easily move around in his or her environment with a dog.
Available to adults and children 11 years and older, the program enables visually impaired people to be in perfect harmony with a guide dog who assists them in their daily lives. To do so, we offer training focused on action, real-life situations and decision-making.
Successful applicants are first invited for a short 24- to 48-hour stay at our facilities. During this visit, we assess the potential beneficiary's current skills. Then the program officially begins.
Discover our facilities
Eligibility Criteria for the Guide Dog Program
Here are the criteria that we take into account for our guide dog program for visual impairment:
Must be at least 11 years old
Be blind, deaf-blind, have low vision or a visual and mobility impairment
Have a visual and medical report confirming your disability (Please download the medical report and have it filled out by your doctor before proceeding with your request)
Must be able to interact with our dogs
Must be in good physical shape (except for persons with a visual and mobility impairment)

Program Sequence
Evaluation
Moving around with the help of a guide dog is very different than getting about with a white cane! To achieve perfect symbiosis between the dog and the beneficiary, Mira proceeds to an evaluation focused on orientation and mobility.
Developed in partnership with the Nazareth and Louis-Braille Institute, this practical training tests the blind or visually impaired person's following skills:
Auditory development
Kinesthetic work
Visualization of the environment
Orientation in space
Once these skills are assessed, we develop an intervention plan suited to the beneficiary's needs. Training with the animal will then start!
Training
Each adult class has 10 students and takes place over 30 days for a first guide dog.
For children 11 years and older, the class also takes place over a period of 30 days. It has 6 students who gradually learn simple to more complex skills. Our educational strategy is adapted to children and uses games and laughter.
Mira provides for all students' housing. During the stay, each person has a private room and can eat meals in our community room. For the children's program, parents are also housed in our residence.
Follow-Up
After the training, a Mira employee and an orientation and mobility specialist will go to the beneficiary's home. All rooms will be analyzed closely to ensure the guide dog's best possible adaptation to its new environment.
Apply now
Do you or a loved one want to take the plunge and live the Mira adventure by joining our guide dog program?
Attached you will find the form to fill out. We also ask that you attach a medical report and a visual report confirming your disability.
Due to the high volume of requests, for ethical concern to serve the people waiting in a reasonable time and to ensure optimal service to active beneficiaries, the Mira Foundation is only accepting new applications from Canadian residents. Beneficiaries residing internationally who have already received a guide dog in the past remain eligible for renewal. Thank you for your comprehension.
Apply now